Guided tours of the town
Medieval town centre with half-timbered houses, romantic alleyways and squares, baroque town hall: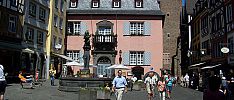 There plenty to see and admire in the Moselle metropolis of Cochem. To find out the most important information first-hand from a competent and lively guide, look no further than our guided tours of the town and our special experience tours.
Immerse yourself in Cochem's nighttime world
Guided tour with Cochem's night watchman
Accompany Cochem's night watchman on his evening round through Cochem's old town, complete with lantern, horn and halberd.
On this enjoyable tour there will be no end of amusement as well as interesting information to discover about bygone times. The night watchman awaits you all year round every Saturday evening at 8.30 pm in front of the Tourist Information in square "Endertplatz" in Cochem.
The tour lasts roughly one hour and costs € 5.00 per person/€ 2.50 for children.
The price includes a small night watchman's tipple for adults and a little treat for children.